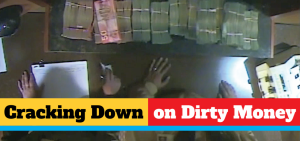 Money laundering has been a big problem in BC for a long time. But the previous government did nothing while dirty money flowed into our real estate market making housing unaffordable for millions of British Columbians.
The reports that have come out recently are particularly alarming. In housing affordability alone, we now know that in 2018 the $5 billion laundered through real estate increased the cost of buying a home by at least five percent. With the composite price for homes in Metro Vancouver at just over $1 million, five percent is an average of $50,000 on top of every home purchase, strictly due to money laundering.
And while money laundering has distorted our economy, it's also fuelled the overdose crisis.
These recent reports make it clear that there are a lot of questions that need to be answered. That's why earlier this month our government launched an open, independent inquiry. An inquiry is the right thing to do and now is the right time. British Columbians deserve answers.
The public inquiry we've called will establish how this criminal activity was allowed to flourish. It will seek out those responsible and help us continue to bring better protections to keep your economy strong and working for people, not for organized crime.
Meanwhile, our government is cracking down on proceeds of organized crime.
Based on information in the reports, we brought forward world-leading legislation to combat money laundering and increase transparency. BC is now the first jurisdiction in North America with legislation to reveal the true ownership of all properties. It will help bring an end to the days when our province could be used by shell companies and others to anonymously hide wealth, evade taxes, and launder money.
The inquiry will be taking the previous reports into consideration as they complete their work. We'll be listening to the inquiry's recommendations and will continue to take action, while the inquiry is under way.
Our government is making different choices. We are going to get results for British Columbians. Not only because it's the right thing to do, but because BC deserves better. You can read more about this in my BC Matters blog post.
It's been a busy spring in Victoria, but today the Legislative session wraps up. Now I'm looking forward to spending more time back home in our community. The Tri-Cities has so much to offer us all, especially as we get outside to festivals, celebrations or just a family afternoon in the park. I hope to see many of you at community events throughout the summer.
Thanks, Rick