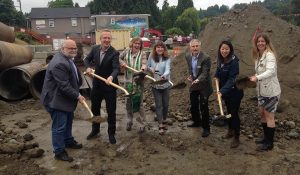 Today, I was happy to take part in the ground breaking on new affordable housing here in Port Moody. The Springs on St. Johns Street will provide 55 units of affordable housing to low- and moderate-income individuals and families.
This is happening because of our government making a $7 billion investment in affordable housing. It's the largest investment in affordable housing in BC's history. In less than two years, more than 20,000 homes are under construction or have been completed across the province. And nearly 400 of those homes are right here in the Tri-Cities.
This development is a result of creating partnerships and working together. Faith-based groups and the non-profit community across the province have partnered with our government to provide needed housing. This project in Port Moody is an example of community partners stepping up.
The land is the former St. Andrew's United Church, provided by the United Church of Canada, and the site will include their new church space. Managed by Catalyst Community Developments and St. Andrew's Port Moody Housing, The Springs will have a mix of studio, one-bedroom, two-bedrooms and three-bedroom apartments. It will also house a new Tri-Cities Children's Centre operated by Kinsight and SHARE Family and Community Services Society.  This centre will offer services and programming for families of children with developmental delays.
The Springs is a great example of how by working together we can find solutions. The housing crisis didn't develop overnight and it won't be fixed overnight. But we are working hard to build more affordable housing right here in the Tri-Cities.
As part of our CleanBC plan our government is promoting active transportation, but I want to hear your ideas for our community. On July 18th, I'm holding a panel discussion on how we can improve walking and cycling. Speakers include members of the Tri-Cities cycling community, transportation advocates, the legislature's Active Transportation Committee, and Port Moody's acting mayor.
You can learn more about the panel on my website. To register for this event by email RVSP here. Before you come, take the time to read the report about CleanBC's online province-wide discussion of active transportation.
I hope to see you at community events throughout the summer – starting with Golden Spike Days this weekend. Stop by our booth for a chat when you're there.
Thanks, Rick