It's good to be back from Victoria, and it was good to see so many at my community office's open house on last Wednesday night. I'm looking forward to the chance to talk with many of you at holiday events here at home.
We achieved a lot this fall in the Legislature. We're working hard to make life here better and more affordable with increased services.
The last MSP bills for people across our province went out this month. It's the end of the unfair premiums that the previous government increased. The elimination of these MSP bills on January 1 is a net tax cut of $800 million. Individuals will save up to $900 and families up to $1,800 – each and every year.
After the previous government let speculators – even money launderers – drive up home prices by over 75% here in our community, community members asked for bold action to tackle the housing crisis. But they also asked for existing measures to be improved. I'm glad to say that our government listened to feedback on the speculation and vacancy tax I provided from our community, as well as input from right across the province. This week's announcement of exemptions for water-access only properties is one example.
Our government is investing in the Tri-Cities. Grants to local community organizations have helped to create opportunities for people to get involved in sports and the arts. We're funding local environmental stewardship and public safety.
We're working with childcare providers, opening new childcare spaces and making them more affordable for families.
And we're investing in innovation province-wide, to tackle climate change and to protect our environment. Working with our partners both here at home and south of the border, we can strengthen our economy and make it sustainable.
A year into our CleanBC plan, we're beginning to make progress. For example, we've introduced training for technicians to service the increasing number of Zero Emission Vehicles now on our roads. We've legislated reporting for public accountability and transparency on our climate targets. And our province is now recognized as a climate leader on this continent.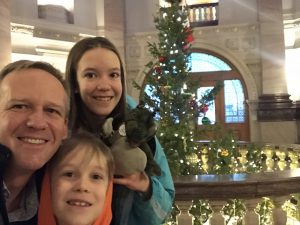 To everyone who has reached out to share their ideas this fall – you have my thanks. It's your feedback that keeps me aware of the diverse needs of our community. You are helping our government to make better decisions for all of us.
I wish you all the best this holiday season.
Happy holidays, Rick