In July, I hosted an panel on how to improve Active Transportation such as cycling and walking in our communities of Port Moody, Coquitlam, Anmore, Belcarra and beyond.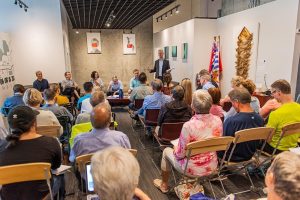 We were joined by panelists Andrew Hartline from the Tri-Cities Hub, Viveca Ellas from the #AllOnBoard Campaign and the BC Poverty Reduction Coalition, Port Moody's Acting Mayor and current City Councilor Hunter Madsen, cycling advocate and a former member of the Seniors Focus Committee Ron Gordon, and Spencer Chandra Herbert, MLA for West End-Coal Harbour. I'm thankful for their contributions to what was an informative and engaging conversation.
The conversation touched on numerous challenges to promoting active transportation. Participants raised concerns about cyclist safety, congestion and infrastructure – the need to "ungap the map." Public attitudes to cyclists were discussed. While much of the discussion with those attending focused on biking, there was an important discussion about equity, mobility issues and those currently excluded from active transportation modes.
And on staying active, Car Free Day in Port Moody is coming up on Sunday, August 18. My office will be open as a cooling station during this great community event, and I encourage you to stop by.
Or join me at one of my MLA Cafes this month. On August 11 from 10am-Noon, I'll be at at Gallager's Coffee Bar on Newport Drive, and on August 23 from 2-4pm at Caffe Divano on Klahanie Drive. I'm also having a pop-up Community Office at Burquitlam SkyTrain Station on August 27 from 4-6pm.
Have a great BC Day long weekend.
Thanks, Rick