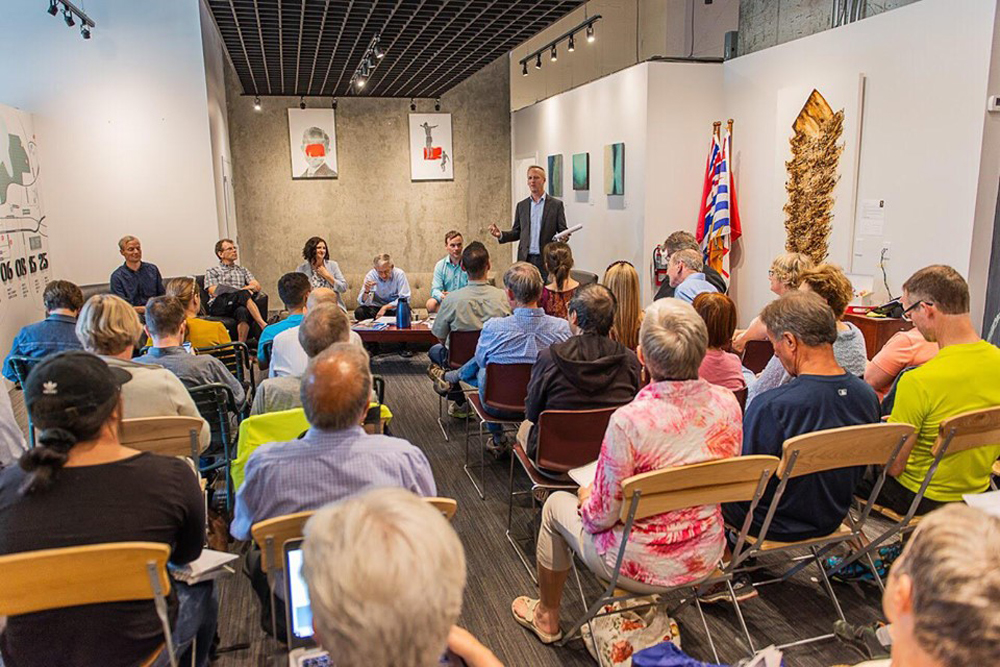 On July 18, MLA Glumac hosted an informative panel on how to improve Active Transportation such as cycling and walking in our communities of Port Moody, Coquitlam, Anmore, and Belcarra and beyond.
We were pleased to be joined by Andrew Hartline from the Tri-Cities Hub, Viveca Ellas from the #AllOnBoard Campaign and the BC Poverty Reduction Coalition, Acting Mayor of Port Moody and current City Councilor Hunter Madsen, cycling advocate and a former member of the Seniors Focus Committee Ron Gordon, and Spencer Chandra Herbert, MLA for West End-Coal Harbour.
We had a fruitful discussion that touched on challenges to promoting Active Transportation such as biking safety, public attitudes towards biking, biking infrastructure, congestion, and issues of equity/who does and does not have access to active transportation infrastructure.  Much of the discussion with attendees focused on cycling, but other active transportation modes were also discussed.
Biking Safety
One of the most ardent concerns raised by our guest panelists and participants was of the safety on the roads. Andrew mentioned how in a recent study in Portland, 30% of people reported being too scared to cycle, while 7% of riders consider themselves "infused and confident"; Most people fall into the category of "interested but concerned".  Safe cycling infrastructure would convince most of this group to ride.  Andrew spoke about how our current bike lane infrastructure is "perfect" for intrepid and experienced cyclists but that this same infrastructure can seem daunting if one is riding with kids. In a similar vein, Viveca mentioned how the UBCM is considering lowering the max speed limit, and that research has shown survival rates in bike-car accidents increasing up to 90% with reduced speed limits. MLA Rick Glumac also mentioned how the current government transportation plan has a goal of zero biking fatalities. MLA Spencer Chandra Herbert also raised the issue of how current punishments for drivers who carelessly endanger cyclists are woefully inadequate.
Cycling Infrastructure
A main concern was also who has access to biking infrastructure. For example, seniors are the largest growing demographic in Port Moody and they have unique needs. Seniors are more likely to want recreational biking infrastructure over bike lanes; many of the older rental buildings seniors call home also do not have electric bike charging stations nor enough bike storage space. Viveca pointed out how bike lane infrastructure also has a tendency to focus on the needs of experienced male able-bodied cyclists. Viveca also mentioned the #AllOnBoard campaign and how cities from Paris  to Victoria are providing free transit for youth to counteract the socio-economic barriers to accessing transit.
Local Cycling Infrastructure
Attendees cited examples of local cycling infrastructure that was needed.  The need for a safe cycling path on Clarke Street between Moody and Barnet was brought up.  Andrew mentioned that this project was on the books with the city, utilizing the HOV lane on Clarke, however the city was concerned that development on the oceanfront would require use of both car lanes so cycling traffic was planned to be rerouted to St. Johns.  Andrew spoke of how that was unfortunate because cyclers that commute to work will not use St. Johns.  Also, if Westport development is built it would be a 15 minute walk from Westport to the Skytrain, but only a 4 minute bike ride.  Others mentioned that crossing from Moody bridge to Clarke on a bike is an issue.  A safe recreational bike path to Sasamat lake would be a very popular addition.
Congestion
Ron Gordon also shared a very interesting reflection: as a youth, he remembered that everyone had a bike and how kids were generally unafraid to bike around town despite little supervision or bike lane infrastructure. Hunter attributed this to congestion and raised this as a significant quality of life concern in Port Moody and a consequence of rapid population increase. Ron mentioned that given these changes, the availability of bike infrastructure has unfortunately not been able to assuage the fear many have of biking next to motor vehicles.
Ungap The Map
Finally, a major concern echoed by both panelists and participants was of the dire need to "Ungap the map" and to connect bike lanes that can become dangerous due to 'gaps' in the path caused by breaks in municipal boundaries. Hunter mentioned how provincial funding to provide unified bike lane plans which cross municipalities could help; Spencer also mentioned the need for municipalities to unite bike lanes and biking standards across municipalities in the region. A suggestion was raised to provide extra funding for projects that cross municipal borders, or connect to transit hubs.  The Fort-to-Fort bike lane which crosses Langley and Surrey was touted as a potential model for these. Rick talked about potential improvements to the Gatensbury Bike Lane Project, which changes significantly at the Coquitlam border.  An audience member raised a bike lane project that utilized rail right of ways in Tri-cities.
Other Important Issues
The issue of removing PST from e-bikes was also raised.  The lack of bike racks was a concern, in addition to how bike share bikes were taking up all the bike rack spots.  A participant, Mohammad, showed a preview of a potential future technology for bike (or car) charging.  He had a prototype charging unit for use in older condo buildings.
Interesting Quotes for Panel:
"Our systems are not moving everybody" – Viveca Ellis
"90% of daily amenities should be within walking distance" – Hunter Madsen
"We need to think about active transportation in all of its forms….rolling, cycling, walking, skateboarding etc"
"Drivers who ride are more conscious of cyclists"
"I ride for future generations [to reduce climate change]"
Key Questions from the discussion
"Our biking infrastructure has greatly improved over the years, but the fear of cycling remains. Why is that?"
"How can we make active transportation accessible to people of all ages and abilities?"
"Why do bike lanes not cross municipal boundaries?"
Next Steps
* Meet with the Finance Ministry about removing PST from e-bikes (regular bikes are not charged PST).
* Meet with the Transportation Ministry about extra funding for cycling infrastructure projects that cross municipal borders or connect to transit hubs.
* Share information with all panelists and other interested parties.